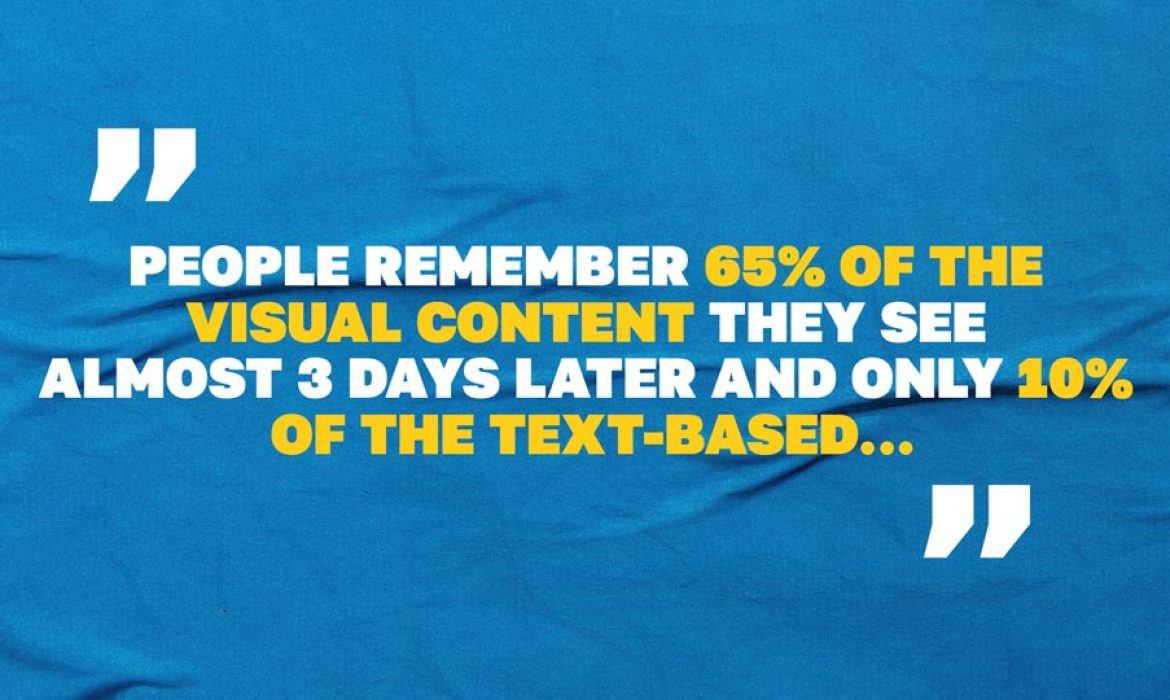 Nobody cares.
Nobody cares about what you have to say. I know reading this sucks, but it's the truth. And the sooner you accept it, the sooner you can shift your focus to something that will make people want to care.
That something is visual storytelling.
It isn't a sort of dark magic (that we know of); it's just visual content at play.
Plus, you don't need the brain of Stephen Hawking to visually communicate a complex concept; you just need a few ideas.
The water's warm and we're diving headfirst.
What Is Visual Content?
Visual content (or visual content marketing if you want to get fancy) means conveying your story using compelling visual elements. Unlike text content, visual content hinges on imagery, design, and aesthetics to communicate ideas and information.
But if your audience doesn't care about what you say, why would they grace your visual content with a second glance?
Well, if you insist on going sciencey – a study found that people who follow directions presented with text and illustrations do the task 323% better than those who follow plain text. Studies like these are even more prevalent in this era of information overload, as brands need to capture and retain the audience's attention with a visually stimulating and resonant experience. Studies also show that people remember 65% of the visual content they see 3 days later.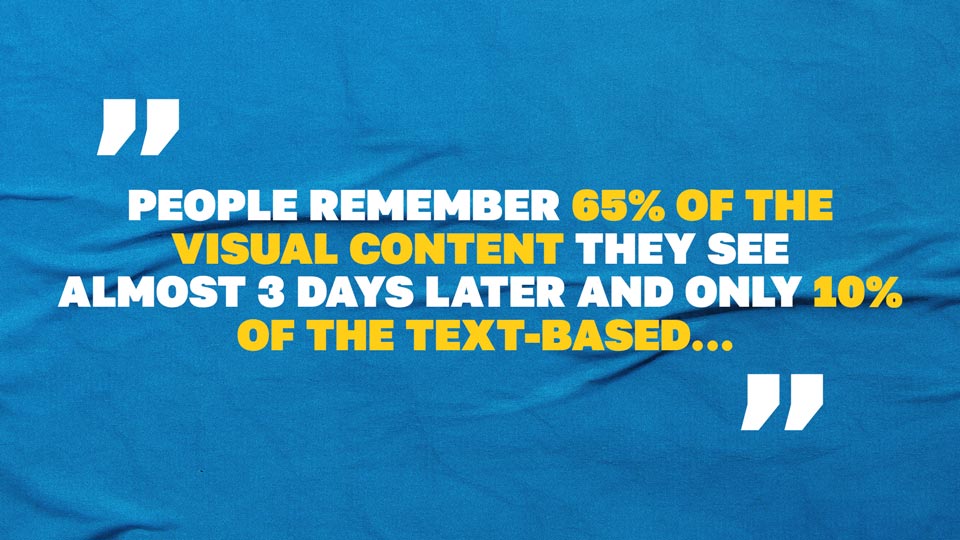 Let's take Apple's product launches as an example. When the company reveals its latest gadget, they don't throw a wall of text at you. While you will eventually read the text specifications, Apple will draw you in with animations, short videos, and scenography.
Do you think they would've generated the same buzz with 20 lines of sterile text?
Debatable.
What Are the Best Types of Visual Content Marketing?
The key to success in visual content marketing lies in harnessing different tools and tactics. Although there are many out there, here are the 3 favorites that yield the best results:
1. Infographics
Infographics are royalty and we will bend to their every will and desire. They convey information in an easily digestible format and increase the drive to read an article by 80%. This is because it boosts information retention and is 3x more likely to be shared on socials.
the drive to read an article increases by 80% when an infographic is included
2. Videos
Video accounted for 82.5% of internet traffic in 2023. What does that tell brands?
It says that your audience are likely to spend much longer on your website or social media platforms if you engage them with video. Not only that, but video content helps build brand awareness and interest in your product or service. Plus, it's a great way to show off your personality and values.
Video accounted for 82.5% of internet traffic in 2023
3. Photos
Although the popularity of a regular photo has waned a bit, we still have to underscore the significance of high-quality images as part of your content strategy. Photos and screenshots contribute to a positive user experience and have been shown to boost engagement time and time again.
For example, some case studies cite that tweets with images get 313% more engagement than those without. This isn't a statistic to sneeze at.
3 Tips for Using Visual Content in Your Content Marketing
To create successful visual content, you need strategic choices and creative decisions. Here are 3 tips to make the transition easier for you and your brand.
Remember – creating content doesn't have to be complicated, so don't overthink it.
Use UGC
UGC (User-Generated Content) is a goldmine for any content marketing strategy. According to studies, up to 93% of customers mention it informs their purchasing decision. This content showcases your customers' experience with your brand and isn't just you shouting about how awesome you are.
Here, you leverage authenticity. Use case studies of before-and-after images to create powerful narratives that resonate with your audience or use branded hashtags and challenges to get your community involved. Who knows, you might even go viral.
Maintain Your Visual Identity
Consistency in visual identity is a non-negotiable element of effective branding. A cornerstone, so to speak. Your brand's colors, fonts, and design style are the language your brand speaks. It's how you convey your brand's personality, values, and message.
If your brand colors are green and orange, for example, posting visuals doused in red and blue can create confusion and dilute your recognition. This is not to say you should ONLY post content in your brand colors, but make sure that when you venture beyond your primary palette, there's a thread that ties everything back to your identity.
Repurpose Written Content
Turning your text content into engaging visuals like infographics or videos is a tactic that can elevate your content marketing efforts. Like a good teacher, you're giving your students (readers) an opportunity to take in the information in a manner that suits them best, whether through text, images, or audio.
For example, since infographics can simplify complex topics and make data more understandable and memorable, you can summarize your blog posts and integrate the image at the top. This way, you're delivering information in a format that's not only aesthetic but also effective.
Nowadays, it's almost unthinkable for a business to neglect digital marketing. Even companies that have observed fantastic results with their campaigns will be forced to continuously adapt to stay in the game.
The automobile industry is a great example of this, i.e., Tesla has developed an innovative approach for constructing vehicles to resemble smartphones in that they contain touch screens and lack dealerships. In the beginning, everyone thought this was impossible, but Tesla has remained the fastest-growing vehicle manufacturer.
We can see a similar trend with many other businesses. The pandemic has shown us that business models which cannot be modernised or digitised will be left behind and forced to shut down to avoid unnecessary repercussions. In fact, underdeveloped countries are the only ones allowing state intervention for failing businesses under the pretext of protecting employees. Unfortunately for those involved, this inadequate practice leads to further indebtment and a more catastrophic collapse in the coming years.
Business leaders who want to maintain a competitive edge and keep up with trends need to ponder which aspect would benefit from automatising, new technologies, and digital marketing.