With over 25 years of experience, ITQAN RASEEL CO LTD is a leading high-tech company specializing in IoT (Internet of Things) technologies, digital LED displays, and tech accessories. The company develops customized solutions that combine audio, video, TV pictures, animation, text, and more. At the time of writing, ITQAN RASEEL has successfully completed over 450 projects and operated in over 55 countries worldwide.
Despite its extensive experience in the digital solutions industry, the company struggled to promote its services and raise awareness beyond the confines of Saudi Arabia and the Middle East due to its niche market. The company asked us to establish a virtual storefront for their solutions, primarily catering to B2B clients.
In addition, the client sought assistance with various creative and technical aspects of the business, including client presentations, branding, and site hosting.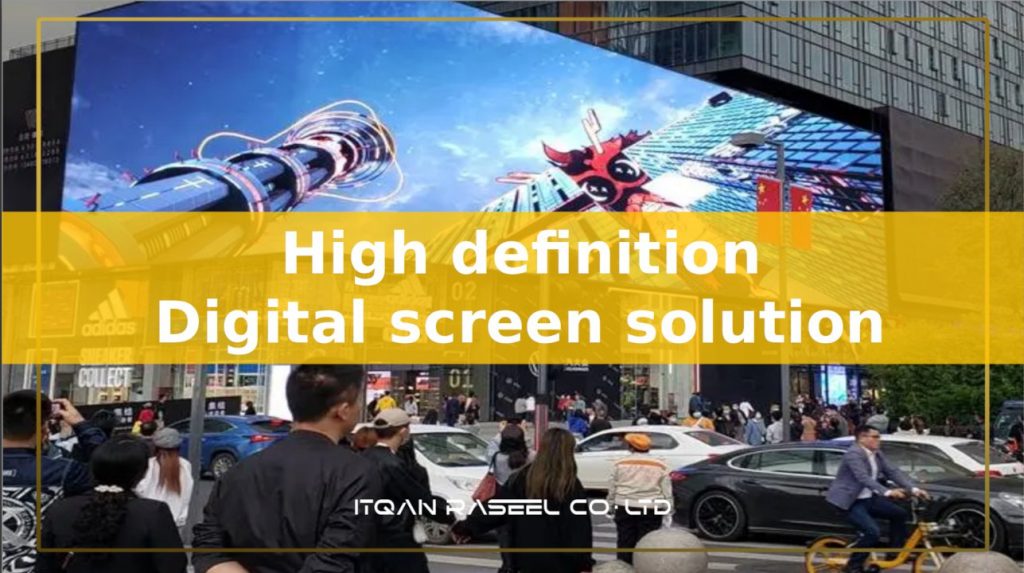 Following discussions with our client, we undertook a branding overhaul. This involved refining the company's logo, color palette, and typography to ensure consistency across all digital and offline touchpoints.
Next, we chose a high-performance hosting solution to guarantee website accessibility and responsiveness at all times. These hosting solutions also included robust security measures to protect data and sensitive user information.
Then came website development. We designed a user-friendly interface that captured the company's essence while providing a seamless browsing experience. The site showcased ITQAN RASEEL's services, technological expertise, and commitment to innovation. We also incorporated engaging visuals that aligned with their branding, featuring white, blue, and specks of yellow. Finally, fine-tuned the content for easy access to information.
Last but not least, we worked closely with the team to create visually engaging and informative marketing materials and client presentations. These materials highlighted the company's USPs and demonstrated how its solutions addressed specific client needs with the help of distinctive graphics, data-driven insights, and persuasive narratives.
The client's first professional website has become the primary point of contact for businesses interested in IoT technologies, digital displays, or accessories. With a newly established brand identity, ITQAN RASEEL can now attract B2B clients more effectively.
The initial website drafts received positive feedback with minimal corrections. We took the client's suggestions into consideration and implemented the team's unique voice and personality. The website is easily navigable and features separate tabs for the company's story, services, and project portfolio.
Our collaboration with ITQAN RASEEL is in its early stages, with much work ahead. As this is our first Middle Eastern client, we continue to actively research the market and develop strategies to expand their business. In the near future, we plan to set up an online store for their product offerings and establish the brand's presence on social media.
The future looks promising, and we can't wait to see what it holds for this collaboration.