Beau is an up-and-coming furniture manufacturer focusing on producing and selling flat-pack furniture. The brand has not yet entered the market and is currently strictly focusing on production and branding.
The furniture manufacturing market is competitive. As an emerging brand, Beau has to make a name for itself early on to avoid slipping through the cracks. The founder tasked us with creating a name, a logo, a color scheme, and a brand identity from the ground up. After thorough research and brainstorming among our team, we began working on the details.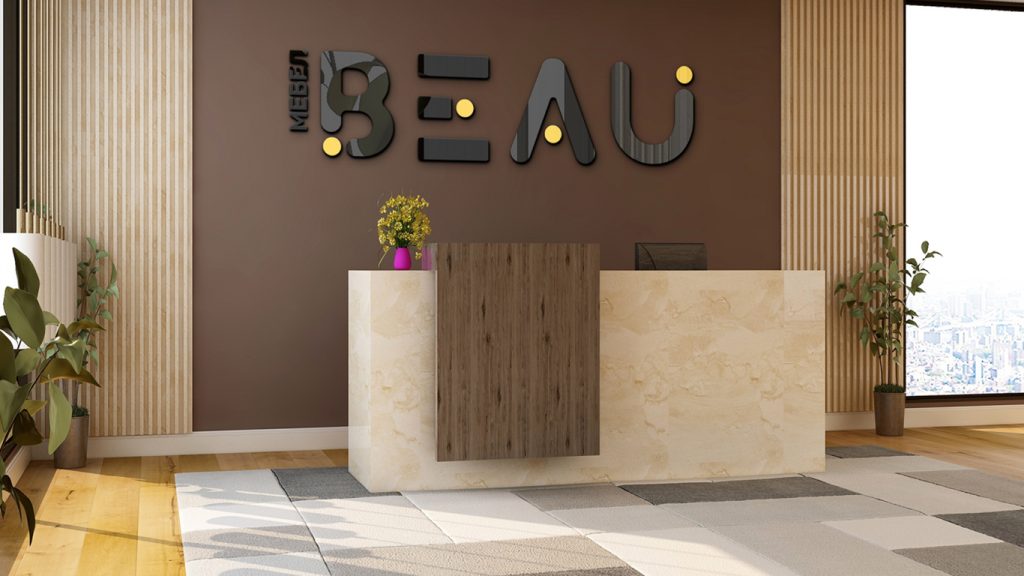 After the client brief, we tackled the brand name. The founder stressed the importance of weaving stories for the brand and emphasized his dedication to creating narratives with each piece of furniture. The furniture design concepts conveyed a marriage between modernism and timelessness. Simply put, they were beautiful.
Inspired by the French, we felt the brand encapsulates the essence of refined aesthetics, so we named it BEAU. Thus, it pays homage to French artistry and expression.
In our quest to create a distinct visual identity for Beau, we chose black and yellow to convey the brand philosophy. Black is synonymous with sophistication and timelessness, which represents the foundation of the brand, while yellow embodies the warmth and dynamism expected to be infused in every piece.
Finally, the logo. The brand's logo features a stylized representation of the name in a simple, yet eye-catching font. It contains the brand colors and it's designed with clean lines and balanced proportions that go along well with the brand's new identity. The use of uppercase letters adds strength and presence, while the subtle yellow accents symbolize the brand's budding energy.
This client is in the beginning stages of creating a brand, so we measure our results with feedback. The name, logo, and color scheme were well-received, and the client has already begun identifying with the brand.
By the time the first pieces of furniture hit the market, the brand identity will have been firmed up and the company will already have a recognizable image, which is an invaluable asset in such a highly-concentrated industry.
As mentioned previously, this brand is still in its conception stage. Consequently, most of the work has yet to be done, but we've already got big plans and comprehensive strategies in our minds. In the future, we're looking forward to:
Establishing the brand's USP

Creating 3D models, professional photography, and image synthesis (3D interiors)

Setting up a website and webshop

Creating and distributing marketing materials

Fleshing out the product assortment

Creating billboards and flyers